BFG AT/KO 33x10.50 Tire
| | |
| --- | --- |
| Custom Search | |
---
When I first lifted my 1985 Toyota 4Runner, I chose to use BFG Mud Terrain tires on it and went with a 33x9.50 size to fit my stock 15x6 rims and fit nicely inside the fenders. The narrow width was fairly nice on the road and worked quite well off road. Aired down toa round 15 psi, they would work well in the rocks, I had them as low as 6 psi in the snow. However, as I added weight to my truck (2nd transfer case, front and rear bumpers, winch, nerf bars, etc.) I think I ended up overloading these tires somewhat. I probably put around 30,000 miles on them over the course of 3 years, both on and off road.
My original intent was to have one tire that I used for all purposes, but I eventually ended up getting a heavier-duty tire (and wheel) for off-road use and so the MTs were left mainly for on- and mild off-road use. When BFG announced their new All Terrain / Key Offroad (AT/KO) tire line a few years ago, the one thing that caught my eye was the 33x10.50 size. They had made a 33x10.50 before, in the Moab edition, but it was very expensive and its soft rubber wore too fast for pavement. So, when my MTs had worn below 1/4" tread depth, I decided to take the plunge...
Here you can see a 33x9.50 on the left and a 33x10.50 AT/KO on the right. Both tires are brand new, mounted on identical 15x6 Toyota factory rims. The AT/KO seems much taller and wider. The new AT/KO design also has significantly more side wall tread and it also has the rim protector strip that projects out and over the rim to help prevent damage.
In fact, the tale of the tape shows a bit over 6" of tread on the MT and nearly 8" on the AT. The voids are a bit smaller on the AT, but not a whole lot. The tread pattern is quite similar in design with the addition if factory siping on the AT.
I've only had time to take a short trip on the new tires but first impressions are they are extremely smooth and quiet on the road. I hope to take these tires on an extended on- and off-road trip in a month, so stay tuned for a long term road test update.
Road Test Update:
Well its now been a few years since installing the tires. I find they work quite well off-road, the 10.50s air down much lower than the 9.50s, not sure if that's due to construction differences between the newer KO design or just the rim/tire width difference. The ATs do not work well in mud, I sort of knew that, but they work great in every other condition I've run them in.
Awesome in snow: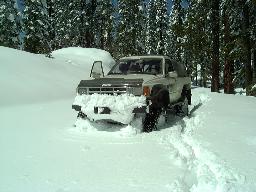 Some folks report problems with the AT/KOs in certain snow conditions where the snow is freezing and ices up the tread.
Decent traction on rocks:
Good in dirt and gravel. One downside is that on gravel roads, the tighter AT tread picks up a lot of rocks and you have a constant pinging of rocks flying and hitting the underside of the truck. I had a set of rock sliders sand-blasted of paint on one 40 mile trip on a rough gravel/dirt road.
I do find the more pronounced sidewall bulge of the 10.50 tire mounted on a 6" rim leads to a somewhat "squishy" ride on pavement. At the 25-35 psi I used to run the 9.50s at, the 10.50s seem very unstable, the truck will oscillate side to side if you hit odd-angle bumps in the road. I find I need to run the tires at 40-50 psi to keep the sidewalls stiff enough to keep them under control. At this pressure, the edges of the tread don't make road contact, so tread wear in the center is a bit higher. Actually, I have since resolved this problem, seems to have been a larger handling issue with the truck. Since leveling it (took about 1.5 degrees of caster out) and stiffening the back up a bit, handling is much better and I'm now running the tires around 24 psi on the road around town. This soft and I do get some squealing in hard turns, so I do plan on running around 30psi for long road trips.
All in all, I like the tread design of the AT/KO, but I think I'll go back to the 9.50 width next time. Perhaps on a 7" rim, they would work better on the road, but I have 6" rims.
[Return to the top of this page]
---
[Last updated: 22.JAN.2001]
---