Toyota Vehicle Identification Numbers
(VIN and Model Numbers)
| | |
| --- | --- |
| Custom Search | |
Visitor # 492255 since 21.MAR.2002
---
---
1989: newer VIN Plate on passenger cars is located on the inside of drivers door
Prior to 1989: VIN Plate is located on firewall within engine compartment
Note: VIN Plate images below feature clickable hot links to related information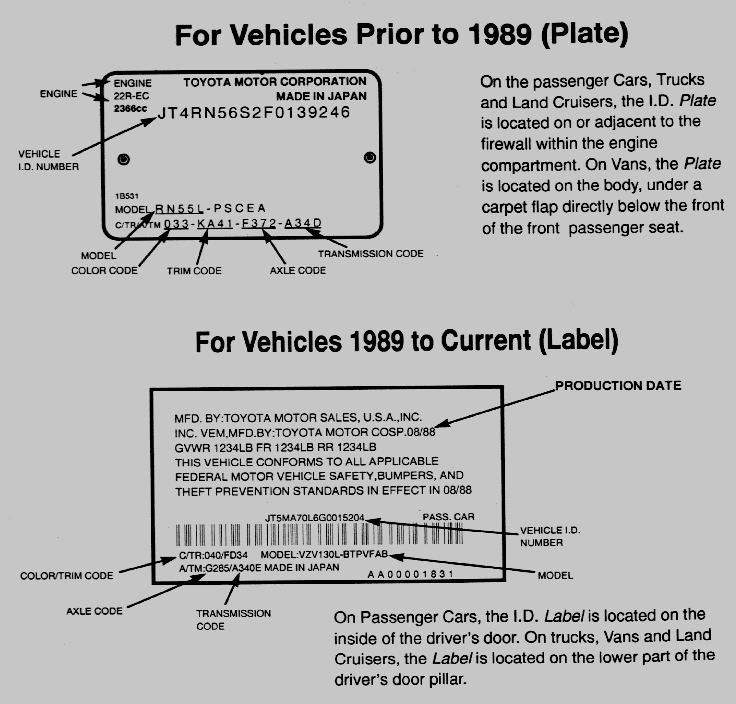 ---
Engine style:

RN = 22R or 22RE engine
VZN = 3VZ-E engine

Basic model code:

80 = short
85 = long
90 = extra long
95 = super long
100 = short, 4wd, v6
101 = short, 4wd, 22re
105 = long, 4wd, v6
106 = long, 4wd, 22re
110 = extra long, 4wd

Drive position:

L = left hand drive
(not specified in the manual, but I assume theres an "R" as well)

Cab Type:

T = Regular cab
C = eXtra cab

Deck & Tire type:

R = Steel low deck (single tire)
H = Steel low deck (single tire 1-ton US spec)
W = Steel low deck (dually)

Gearshift type:

K = 4 on the floor
T = 4 on the floor, G type
M = 5 on floor
L = 5 on gloor, usa only, G type
S = 4spd auto, column
P = 4-speed auto, floor

Grade:

R = Std
D = Dlx
S = SR5
G = SR5-V6

Engine specification:
Destination:
Completeness specification:

3 = Deckless
6 = Cab and chassis
blank: Complete model
[Return to the top of this page]
---
Basic model code:
Steering wheel position:
Body type:
Gearshift type:

M = W-type 5-speed manual, floor
P = 4-speed auto, floor

Grade:
Engine spec:
Destination
[Return to the top of this page]
---
Toyota's engine numbering system breaks down something like the following:
The first number is the revision number of the block, and the following letter is the name of the block.
For example, the 4A is the fourth revision of the A block.
Not all revisions make it to market of course.
The letters after the block designation translate into the following:
G - twin cam
F - economical twin cam (cams closer to each other)
T - turbocharged
Z - supercharged
E - electronic fuel injection
L - lean combustion
C - emissions package or carburated (depending on year/model)
U - passes the Japanese emission regulations
B - twin carbs
Example:
4A-LC = 4th revision of the "A" engine block, lean combustion, carburetted.
22R-EC = 22nd revision of the "R" block with EFI and emissions (CA?) package.
[Return to the top of this page]
---
[Return to the top of this page]
---
1990 and later:

DIGIT:            1 1 1 1 1 1 1 1 1
1 2 3 4 5 6 7 8 9 0 1 2 3 4 5 6 7 8
-----------------------------------
W V W D B 4 5 0 5 L K 2 3 4 5 6 7 8
-----------------------------------
WMI.. VDS........ VIS..............

    WMI - World Manufacture Index 
    VDS - Vehicle Descriptor Section 
    VIS - Vehicle Identifier Section

1: Country
2: Manufacturer
3: Type
4-5: Body Type (translated from Russian)

11 - Dzhip/minivan(Liteache) with the standard roof
12 - Minivan with the elevated roof
21 - cargo of avtobus(Yuiache) with the standard roof
22 - cargo bus with the elevated roof
23 - cargo bus with the high roof
31 - Pikap(Yuilukh)/Gruzovik(Dyna) with the single cab
32 - Pikap/Gruzovik with the one-and-a-half cab
33 - Pikap/Gruzovik with the dual cab
41 - To avtobus(Yuiache Of chommuter/Choaster) with the standard roof
42 - bus with the elevated roof
43 - bus with the high roof
52 - Khetchbek, 2 the side doors
53 - sedan
54 - Khetchbek, 4 the side doors
63 - sleeping compartment
64 - Liftbek
72 - Universal/Vagon

6: Engine Series (translated from Russian)

BUT - 4A, 5A, 7A
B - 3B, 11B, 13B, 14B, 15B
CH - 1C, 2C
E - 2E, 3E, 4E, CABBAGE SOUP
F - ECHIS
G - 1G
YU - 2H, 12H
ZH - YZHZ, 2ZHZ
K - 5K
L - 2L, 3L, 5L
M - 5M, 7M
P - YYUZ
R - 22R
S - 2S, S, 4S, 5S

7: Model (translated from Russian)

But - Supra
B - Choaster
Ch - Previa RAVYA
D - MegaChruiser
E - Chorolla
F - Lekhus Lsya00
Yu - Yuiache
K - To yuiache (new)
Zh - LandChruiser
L - Paseo, Terchel
M - Pichnich
N - Surf, 4Runner
P - Starlet
R - LiteAche
S - Lekhus Gse00, Gsya00, Chroshn
T - Charina/Chorona, Chelicha, Avensis
U - Dyna 200
C - Chamry
SH - MR2
X - Chressida
Y - Dyna 100, Dyna 150

8: Model Code
9: Check Digit
10: Year

B = 1981
C = 1982
D = 1983
E = 1984
F = 1985
G = 1986
H = 1987
J = 1988
K = 1989
L = 1990
M = 1991
N = 1992
P = 1993
R = 1994
S = 1995

11: Assembly Plant

C = Ontario, Canada
O = Supra plants
U = Gergetown, Kentucky
Z = Fremont, California

12 - 18: Sequential Production Number
---
Pre-1990:

DIGIT:            1 1 1 1 1 1 1 1 1
1 2 3 4 5 6 7 8 9 0 1 2 3 4 5 6 7 8
-----------------------------------
W V W D B 4 5 0 5 L K 2 3 4 5 6 7 8
-----------------------------------
WMI.. VDS........ VIS..............

    WMI - World Manufacture Index 
    VDS - Vehicle Descriptor Section 
    VIS - Vehicle Identifier Section

1: Country

J = Japan
4 = North America

2: Manufacturer
3: Type
4: Body Type (translated from Russian)
5:
6: Engine Series (translated from Russian)

BUT - 4A, 5A, 7A
B - 3B, 11B, 13B, 14B, 15B
CH - 1C, 2C
E - 2E, 3E, 4E, CABBAGE SOUP
F - ECHIS
G - 1G
YU - 2H, 12H
ZH - YZHZ, 2ZHZ
K - 5K
L - 2L, 3L, 5L
M - 5M, 7M
P - YYUZ
R - 22R
S - 2S, S, 4S, 5S

7: Model (translated from Russian)

But - Supra
B - Choaster
Ch - Previa RAVYA
D - MegaChruiser
E - Chorolla
F - Lekhus Lsya00
Yu - Yuiache
K - To yuiache (new)
Zh - LandChruiser
L - Paseo, Terchel
M - Pichnich
N - Surf, 4Runner
P - Starlet
R - LiteAche
S - Lekhus Gse00, Gsya00, Chroshn
T - Charina/Chorona, Chelicha, Avensis
U - Dyna 200
C - Chamry
SH - MR2
X - Chressida
Y - Dyna 100, Dyna 150

8-9: Model Code
10: Spare Symbol
11: Year

B = 1981
C = 1982
D = 1983
E = 1984
F = 1985
G = 1986
H = 1987
J = 1988
K = 1989

11-17: Sequential Production Number
[Return to the top of this page]
---
---
[Date created: 10.DEC.1999]
[Last updated: 08.July.2018]