When reading from fixed blocksize devices, tar cannot determine the blocking factor used when the tape was created. This may lead to tar incorrectly deciding that the tape is a multi-volume tape, if the blocking factor when reading is not an integral divisor of the block size used when the tape was written. If this occurs on tapes that you believe are not multi-volume, simply press RETURN at the "change tape" prompt, and tar will complete normally.
The IRIX version of tar is by default POSIX-compliant, allowing up to 255 character long file names, while DOS-TAR is based on the older non-POSIX naming convention with a 100 character file name limit.
Note: In DOS, the limit is 64 characters, so 100 is more than enough.
So, when writing tapes on IRIX that are to be read with DOS-TAR, the "tar O" option must be used. This is done for you in the
Symptom:
You write a tape on IRIX and read it with DOS-TAR and get the following error:

aspiread: errno: -16
Using SCSICODE, you can see this is a "medium error". This can be caused by using improper medium (i.e. tape) in the drive. Certain types of medium are interchangeable (physically) between tape drives. However, using non-standard medium on different brands of tapes drives may or may not work. For example, using:
DDS2 (120m) DAT tapes in a DDS1 (60m or 90m) tape drive.
Audio DAT instead of a Data DAT tape.
Video 8mm instead of Data 8mm tape.
250 or 500 MB QIC tapes in a 150 MB drive.
You may find that you can read and write the non-standard medium with the same brand tape drive but have trouble when going to a different brand drive. Bottom line is to find and use a tape medium that works in all the tape drives you'll be using. Just because it works in one system doesn't mean it is correct.
If you continue to have trouble on the PC side reading (or writing) tar archives to tape, you can try the following debugging approaches:
The SCSICODE program from Adaptec is included in the DOS-TAR distribution.
The MT -s command will tell you about the SCSI tape drive on your PC, similar to the mt status command in IRIX. Tt will display tape drive information, SCSI driver versions, etc.

SCSICODE will assist in decoding SCSI errors reported by the various DOS programs when the DEBUG environment variable is set (i.e. SET DEBUG=1). Here is a typical error output and debug session in DOS:


> SET DEBUG=1
> TAR xvb 20
SCSIRead(10240)         <--(Trying to read 10240 = 20*512 bytes)
 ScsiIoError:
  ASPI status= 4        <--(this is the SCSICODE sense key)
  Adapter status=      0     <--(the host adapter has no error)
  Target status=       2      <--(this is the SCSICODE error code)
  - sense=F0 00 20 00 00 00 14 12 00 00 00 00 00 00
aspiread: errno: -25    <--(ASPI error code is -25)

> SCSICODE /e:2 /s:4
Sense  Key 4 - Hardware error
Error Code 2 - No seek complete


If all else fails, I've included the source code in the distribution in DOS-TAR\SRC:

"Use the source, Luke!"
I built the executables using Microsoft C v6.00, and you could use SYMDEB or CV to debug it. If you find and fix any bugs in it, please let me know and I'll add the changes to my version.
I tried unsuccessfully to build it with either Borland's TurboC or Metaware's 32-bit HighC compilers.
Tips and Tricks
Now that you've (finally) got DOS-TAR working, here are some tips to extend its usefulness:
To back up an entire disk drive (C: in this example), use the following:

PUT C:/

Note: that is a forward "/" not a back slash "\".
Also, DOS-TAR will strip drive letters from the archived paths. If you want to keep files from multiple drives separate, you should configure PUT.BAT to write to the non-rewinding tape device (/dev/nrtape) and then use a series of call to PUT.BAT, once for each drive letter.

This will leave you with a multi-volume tape on which you'll use MT.EXE -p n to position the tape to the desired volume prior to extracting the files.

If you are backing up or restoring a lot of data, you'll want to be sure and have your disk-caching software enabled and optimized to allow the tape drive to "stream" and avoid excessive wear-and-tear from stop-rewind-start cycles.

When properly configured you should observe that the tape drive runs continuously while transferring data.
If not it'll stop, rewind and start many times.
[Top]
---
Instead of physically connecting a tape drive to your PeeCee, why not let the network do the connecting. Here is the Windows version of GNU tar with makes use of the WinSock networking interface to blast archive bits over the wire. In the distribution are full documentation files, but the quick start guide is:
Run

WTAR.EXE --WAIT
on the PeeCee.

Run:

rsh PeeCee "tar cvf - C:/" | dd -bs=10240 of=/dev/tape

on the Irix system.
This will back up the C: file system on machine PC.
[Top]
---
Many PC networking software packages are now including more of the TCP/IP networking tools common on Unix workstations for decades. Among these tools, telnet can be used for workstation <-> PC access for command-line operations. All SGI workstations include a telnet daemon (telnetd) that can accept telnet connections. Many PC networking packages also include such a feature, usually implemented as a Terminate and Stay Resident (TSR) or Dynamic Link Library (DLL). If your PC is so equipped, you'll need a few simple components to make a telnet link:
An X11 font capable of displaying the PC character set.
A terminal emulator and shell script to fire it all off.
And to prove it works, here's a screen shot from my Indy workstation connected to my lowly 386 running Sun's PC-NFS Pro. It looks and feels just like MS-DOS.
[Top]
---
Making a 10baseT cable for use between 2 machines
If you need to connect 2 systems via 10baseT Ethernet (RJ45 connectors) you can make a cable that can be used between the two machines without the need for a network hub. Just follow the pinouts below to reverse the normal cable assignments. Wires not listed here (4 of them) are not used. You can also purchase pre-assembled PC<->PC network cables for under US$10 at computer and electronics stores.
Note: You may need a crimping tool to make the cable, and this is sometimes tricky.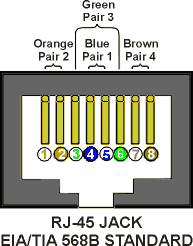 This is the front view of an RJ-45 connector so that you can identify the wire numbers.
[Top]
---
If you, like I, frequently switch between systems, making the different machines look and feel alike can be helpful. There are several things you can do to make your SGI workstation behave similar to a PeeCee.
Here's some simple command aliases for Cshell (csh) users that mimic a number of MS-DOS commands on IRIX.

Here's a DOS-like TREE command for IRIX.

Check out this information for modifying the default window input focus behavior of the SGI window manager to behave more like the MS Windows model.

You can also make your PeeCee more IRIX-like:

I've used the MKS ToolKit for many years and find its Unix features quite handy.
There are a number of PC-Xservers that run on MS Windows for accessing IRIX:

Hummingbird's eXceed/W server is quite good, running from Win3.1 up.
NCD's PC-Xware includes OpenGL support for Windows NT.
[Top]
---
The X Window System has a very flexible input system. It is based on the concept of 'Window or Keyboard Focus' whereby one (and only one) window on your screen has 'focus', meaning it is receiving keyboard and pointer events. The default means of determining which window has focus is 'implicit', meaning the window that has the cursor inside of its boundaries has focus. The window with focus need not be on top of the window hierarchy, only some small portion must be visible. This is very useful, for example, in a 'cut and paste' operation. You can select some text by dragging the cursor over it in one window and then quickly paste it into another just by moving the cursor over a visible option of the other window and pressing the paste (middle) mouse button.
However, as nice as this focus policy is, in some cases, it may be desirable to adopt a different policy. The 4D Window Manager (4Dwm) offers an 'explicit' keyboard focus policy with a number of options. In explicit mode, you change window focus by some explicit action, such as clicking in the window you wish to receive focus.
Note: This is almost identical to the window focus policy used in the Microsoft Windows graphical user environments.

When the focus policy is explicit, four resources can be set to True to allow a window to receive keyboard focus automatically at specified times:
| | |
| --- | --- |
| autoKeyFocus | When the window with focus is iconified or unmapped (gives focus to the window that last had it) |
| deiconifyKeyFocus | When the window is iconified |
| raiseKeyFocus | When the window is raised to the top of the stack |
| startupKeyFocus | When the window is mapped |
Table: 4D Window Manager resource options.
Among these, the raiseKeyFocus behavior is interesting to use with certain applications, especially when they make heavy use of dialog boxes. In this manner, whenever a dialog box appears (i.e. it is raised to the top of the stack) it automatically receives keyboard focus. Along with this option, the autoKeyFocus is useful as after the dialog is closed, focus returns to the window that last had it, namely the main application window.
The focus policy must be done on a session-wide basis as it is the window manager (4Dwm in the case of SGI workstations) that enforces the policy. This means that all windows on your workstation display will behave in the same way. The way to change these settings is through the 4D Window Manager's applications defaults file, located at:
/usr/lib/X11/app-defaults/4DWm
The setting that can be changed are:
| | |
| --- | --- |
| *keyboardFocusPolicy: | pointer / explicit |
| *autoKeyFocus: | false / true |
| *deiconifyKeyFocus: | false / true |
| *raiseKeyFocus: | false / true |
| *startupKeyFocus: | false / true |
Table: 4D Window Manager resource settings.
It is recommended that you make a backup copy of this resource file, before changing it. The window manager must be stopped and restarted for any changes made to take effect. This may be accomplished from the ToolChest->System->Restart_Window_Manager menu item.
---
<e-mail the author>
Last updated: 24.AUG.1999