Visitor # 4099 since 14.SEP.2003
---
Thought for today:
Did you know that PeeCees run on smoke?
You can tell because if the smoke escapes the PeeCee stops working.
---
<Here's an alternate link with some updated information; check it out and let me know what you think of it.>
I work with SGI workstations mainly, but for certain tasks, I use a PC. I believe in using the right tool for the job. My lowly 386DX33 ( don't laugh, its fully depreciated :-) is just the ticket for viewing and printing MS Word documents and Excel spreadsheets.
Note: I'm not a Macintosh user, so you won't find much about Mac's here, so you might look here instead.
I've had a PC on the SGI network since 1990 and have assembled some bits of information and software to make the PC a more useful tool. The key to making this happen is to make it easy to exchange and share data between the PC and the workstation. This can range from the old standby floppy disks and tapes up to high-speed networking and NFS.
Are you a sneaker-netter?
Maybe you prefer the simplicity of a serial port dial-up connection.

You'll need some file transfer programs, like Zmodem.


Want to put your PC on the net?
Need to share your SGI monitor with a PeeCee?
Perhaps you'd just like to make your PC and workstation work more alike.
Xd is a handy tool for looking at and manipulating all manner of files, especially binary ones:
* You'll need the Web Installation tools (tardist) to install this software.
[Top]
---
Assuming you have a SCSI floptical drive in your workstation, you can exchange data with PCs and Macs via low and high density floppy disks (and with 21MB floptical disks if your PC is similarly equipped). The SGI workstation will automatically recognize the floppy format and mount it with the proper file system at /floppy (by default).
The MS-DOS file system on IRIX will "do the right things" to files put on the floppy.
These include:
8.3 file name format.
All file names in lower case
File permission translation to DOS modes.
So, to avoid surprises, achieve faster transfer speed to/from floppy, and stuff more data on a floppy, I'd recommend that you use some form of archive and/or compression tool when reading/writing the floppy disk on both the PC and IRIX side. Writing many individual files to a floppy from IRIX and be somewhat slow due the the MS-DOS file system translations. A single file archive can be written to and read from the floppy much faster. Also, you can "hide" long file names, mixed-case file names, and IRIX permissions inside the archive.
I use the "3M Floptical Diskettes". They come 5 to a box and unfortunately run about $75 (US).
On the IRIX side, you'll want to check out my compression tools* that brings all these features to the Indigo Magic Desktop.
On the PC side, I'm sure you have pkzip/pkunzip, if not check out the PKWARE web site.
* You'll need the Web Installation tools (tardist) to install this software.
[Top]
---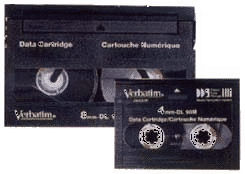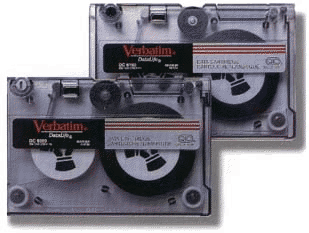 You'll need a SCSI host adapter and a compatible SCSI tape drive in your PC. The SCSI host adapter must be ASPI-compliant and you'll need a tape form factor that matches the one in your workstation.
Quarter-inch cartridges (QIC) you can get from 150-250 MB of uncompressed data on a tape.
Digital audio tape (DAT) drives can pack 1.3-4 GB of uncompressed data on a tape.
8mm tape drives can do from 2.5 GB on up.
Here's some tape drives, host adapters and ASPI drivers I have used successfully (I've never found a tape/controller combination that didn't work):
Tape Drives:
SCSI Host Adapters:
ASPI Software

Then, you'll need to grab a copy of DOS-TAR which gives your PC the ability to read and write tar tapes that are fully compatible with your SGI workstation. Here's some more information pertaining to DOS-TAR:
Finally, you'll need to use compatible tar options on the IRIX side. Here are matching IRIX shell scripts to read and write DOS-TAR compatible tapes:
get:

#!/bin/csh -f
echo "\nTar reading from tape device..."
tar xvpb 20 $*

put:

#!/bin/csh -f
echo "\nTar writing to tape device..."
tar cvb 20 $*
If you are using QIC tapes, you'll need to deal with the default byte-swapping behavior of the IRIX SCSI tape driver. One way is to set the environment variable, TAPE, to point to the non-swapped tape device. For example if your tape is on SCSI ID #6, then the default tape device is:
and the non-swapped device is:
So, to change the default, use:
setenv TAPE /dev/mt/tps0d6ns
Alternately, you can use the non-swapped tape device link (if it exists; e.g QIC drives):
in the get and put shell scripts; for example in put:
...
tar cvfb /dev/tapens 20 $*
Note: On DAT and 8mm tapes, this is not an issue.
DOS-TAR not only makes your data interchange process easier, but it also makes a cool backup program. The best part of the deal is it's *FREE*. I needed this tool myself, so I found the source, built it and figured out the tricks to make it work.
Hints:
To back up an entire disk drive (C: in this example), use the following:

PUT C:/

Note: that is a forward "/" not a back slash "\".
Also, DOS-TAR will strip drive letters from the archived paths. If you want to keep files from multiple drives separate, you should configure PUT.BAT to write to the non-rewinding tape device (/dev/nrtape) and then use a series of call to PUT.BAT, once for each drive letter.

This will leave you with a multi-volume tape on which you'll use MT.EXE -p n to position the tape to the desired volume prior to extracting the files.

If you are backing up or restoring a lot of data, you'll want to be sure and have your disk-caching software enabled and optimized to allow the tape drive to "stream" and avoid excessive wear-and-tear from stop-rewind-start cycles.

When properly configured you should observe that the tape drive runs continuously while transferring data.
If not it'll stop, rewind and start many times.

DOS-TAR is built in the medium DOS memory model, which limits it memory requirements, but also limits it in certain aspects.

The major limitation is on the tar blocking factor (or number of 512-byte disk blocks to buffer at any time).
I get good results setting the blocking factor less than 64. (64 is too big, you'll get run-time errors, trust me).
Whatever you set it to, you *must* keep it the same on both sides of the transfer.

DOS-TAR does *not* like variable block sizes.

You *need* to specify a fixed block size on the IRIX side and also avoid using the variable block size tape devices (see: man tpsc).

The source code is included in the distribution. I built the enclosed executable using Microsoft C v6.00.

I tried unsuccessfully to build it with either Borland's TurboC or Metaware's 32-bit HighC compilers.
[Top]
---
Instead of physically connecting a tape drive to your PeeCee, why not let the network do the connecting. Here is the Windows version of GNU tar with makes use of the WinSock networking interface to blast archive bits over the wire. In the distribution are full documentation files, but the quick start guide is:
Download the WIN-TAR distribution.
Install the WIN-TAR/BIN directory on your system and edit WTAR.INI to suite your needs.
Run

WTAR.EXE --WAIT
on the PeeCee.

Run:

rsh PeeCee "tar cvf - C:/" | dd -bs=10240 of=/dev/tape

on the Irix system.
This'll back up the C: file system on machine PC.
[Top]
---
Many PC networking software packages are now including more of the TCP/IP networking tools common on Unix workstations for decades. Among these tools, telnet can be used for workstation <-> PC access for command-line operations. All SGI workstations include a telnet daemon (telnetd) that can accept telnet connections. Many PC networking packages also include such a feature, usually implemented as a Terminate and Stay Resident (TSR) or Dynamic Link Library (DLL). If your PC is so equipped, you'll need a few simple components to make a telnet link:
An X11 font capable of displaying the PC character set.
A terminal emulator and shell script to fire it all off.
And to prove it works, here's a screen shot from my Indy workstation connected to my lowly 386 running Sun's PC-NFS Pro. It looks and feels just like MS-DOS.
[Top]
---
Making a 10baseT cable for use between 2 machines
If you need to connect 2 systems via 10baseT Ethernet (RJ45 connectors) you can make a cable that can be used between the two machines without the need for a network hub. Just follow the pinouts below to reverse the normal cable assignments. Wires not listed here (4 of them) are not used. You can also purchase pre-assembled PC<->PC network cables for approx. $8 at computer and electronics stores.
Note: You may need a crimping tool to make the cable, and this is sometimes tricky.
pin 1 <----> pin 6
pin 2 <----> pin 3
pin 3 <----> pin 2
pin 6 <----> pin 1
12345678
|--------|
\--------/
This is the front view of an RJ-45 connector so that you can identify the wire numbers.
[Top]
---
If you, like I, frequently switch between systems, making the different machines look and feel alike can be helpful. There are several things you can do to make your SGI workstation behave similar to a PeeCee.
Here's some simple command aliases for Cshell (csh) users that mimic a number of MS-DOS commands on IRIX.

Here's a DOS-like TREE command for IRIX.

Check out this information for modifying the default window input focus behavior of the SGI window manager to behave more like the MS Windows model.

You can also make your PeeCee more IRIX-like:

I've used the MKS ToolKit for many years and find its Unix features quite handy.
There are a number of PC-Xservers that run on MS Windows for accessing IRIX:

Hummingbird's eXceed/W server is quite good, running from Win3.1 up.
NCD's PC-Xware includes OpenGL support for Windows NT.
[Top]
---
[Last updated: 25.December.2014]